DYNAMIC COMPRESSION SYSTEMS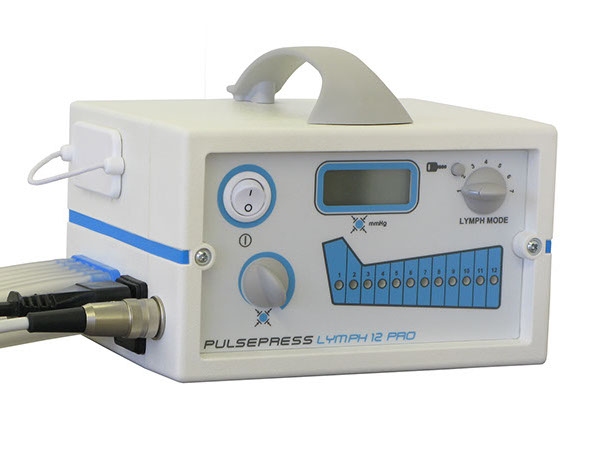 12 chamber sequential & peristaltic gradient compression pump
The Lymph 12 Pro unit has been designed to be used in the clinic. It's compact yet powerful design gives excellent clinical performance.
The Cyclone compressor is very powerful and gives a rapid garment inflation, which in turn gives a very high pressure rise time. This rapid inflation helps gives the treatment of Lymphoedema by removal of the lymph fluid from the limbs, giving the clinical excellence expected from Pulse Press systems
The system can be used with two garments at the same time and has fully mode
The fully microprocessor controlled pressure contrlled system never requires calibrating and as with all Pulse Press system in the event of a power failure mid cycle the system automatically vents the pressure in the garments.
All Pulse Press systems are 100% built and tested in the UK to a fully Medically Approved Quality System.
Three Year Product Warranty

Click for Lymph Garments
Pre-Drainage Mode
This mode has been designed to immitate Manual Lymph Drainage (MLD) to open the lymph nodes. Once the nodes have been opened, it allows easier drainage of excessive lymph and for the treatment to proceed.
Peristaltic Mode
Offers a gentle wave of inflation, working in a traditional Distal to Proximal manner. This method in lymph drainage is preferred by some patients as it offers greater comfort than Sequential inflation at the cost of overall effectiveness of reducing the limb size is lower.
Gradient Sequential Mode
The garment is inflated fully from Distal to Proximal . Once fully inflated the entire garment is deflated before the cycle repeats. This method offers a greater level of lymph drainage.
Combination Therapy
The Lymph 12 Pro has two modes which automatically combine the Pre-Drainage mode and the Peristaltic or Sequential modes. The benefit is that during a single treatment the limb is initially prepared by opening the lymph nodes and then automatically switches into the chosen lymph drainage mode.
Product Specification
Pressure Range 30-100mmHg
Compressor Output 16-24 ltrs / min
Cycle Times Inflation Automatic
Deflation Automatic
Therapy 30-60 mins
Mode Selection x7 different modes
Size 187mm x 166mm x 150mm
Weight 3.15Kg
© 2021 26310 MJS Group UK